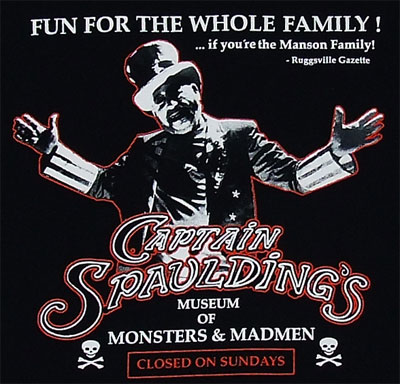 Captain Spaulding's Museum of Monsters and Madmen is a road side gas station, near Ruggsville, that doubles as an eatery and a Museum (complete with a ride, the Murder Ride). The former being bragged about for its famous fried chicken.
An ad for the Museum is often broadcasted on television that promotes the establishment for its "Fried Chicken and Gasoline" and features audio commentary and an appearance by none other than the owner, Captain Spaulding, himself.
The commercial also offers directions as to where to find the Museum as well and dictates as follows,
"Exit 13 off Route 1 at Ruggsville."
Below is audio to an advertisement:
Outside the Museum
Edit
A sign advertising the Museum is seen on Route 1 advertising the Fried Chicken and Gasoline, enticing any would-be traveler to make a stop if needed. It is noted that to visit the establishment an exit must be made on Exit 13 in Ruggsville.
From the outside of the Museum a large neon sign is illuminated at night time hours to make a wider appeal and actually be seen from a distance. Also in addition, a large ghoulish figure is seen next to the sign. A recorded hellish laughter is then played from speakers, which sit on the roof.
Once on the property, the Museum itself looks like any ordinary gas station or rest area. The Murder Ride is located to the east side of the premises, while the Museum is within the building in which you pay for gas and for food, if neccessary. A large mannequin clown greets any visitor by the door by an animatronic arm waving motion.
Inside the Museum
Edit
Inside the Museum many strange exhibits and oddities await. Such as,
The Alligator Boy, a mummified corpse of half an alligator and half human creature.
Mary the Monkey Girl, a half girl and half monkey hybrid that was found in the wilds of Borneo. (Though she is not seen in House of 1000 Corpses, she is referred to and shown in a commercial advertising the Museum in The Devil's Rejects.)
Aqualina, The "Feegee" Mermaid.
"Wall of Shame" photo gallery.
Jackalope mounted on frame.
Various pumpkins and Jack-o-Lanterns.
Numerous jarred fetuses.
A sarcophagus.
Hairless Monkey.
Photographs of medical oddities.
Various animal hides and skeletons.
Framed photographs of Spaulding's travels.
Framed photographs of Villains in history and Serial Killers.
Busts of famous horror film characters, such as Dracula and the Creature from the Black Lagoon.
Numerous taxidermy animals and mannequins.
Glass display case of skulls.
Wooden and glass display case of a ribcage.
Letters and confessions of various criminals.
Famous Fried Chicken stand.
Incidents
Edit
An attempted robbery once befell the location by Killer Karl and Richard Wick, which was ultimately a failure as both were killed in the act.