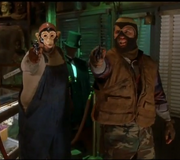 Killer Karl and Richard Wick are a pair of dim witted robbers that try to steal from Captain Spaulding at the opening scene of House of 1000 Corpses.
Robbery Incident
[
]
The two ambushed and forced entry into Captain Spaulding's Museum of Monsters and Madmen on October 30th, 1977 in an attempt to retreive money from the business.
Killer Karl was the brains of the pair, though that is not saying too much, as he orchestrated the entire ordeal as Richard held a second gunpoint for his backup. Richard is easily offended and mostly stupid altogether, he appears to be very nervous during this incident.
Captain Spaulding was not easily rattled by the orders, insults and demands of Karl during the faceoff. Meanwhile, Stucky, who was using the bathroom during this time frame was taken into the room by Richard at Karl's orders. It was at that point that spelled the failure for the robbery as Stucky recognized Richard as a worker from the Hardware Store. He then reveals that Richard is often teased and nicknamed "Little Dick Wick". It was also then that Stucky sang the rhyme ("Little Dick Wick, played with his prick, doesn't that smell just make you sick?") that made Richard take his mask off and let his guard down. After Richard took his mask off, Karl did the same but at this point their fate was already sealed as both were off their defense.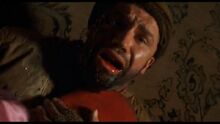 Deaths
[
]
From outside, Captain Spaulding's assistant Ravelli, burst into the room and axed Karl down as Captain Spaulding shot Richard with a revolver. Richard died instantly as Karl laid bleeding. Spaulding then delivered the final blows as he shot Karl in the face repeatedly.