Jurassic World: Dominion Dominates Fandom Wikis - The Loop
Play Sound
Investigating the disappearance of four missing teenagers, he interrogated Captain Spaulding, the owner of the gas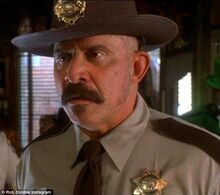 station and museum where the kids were seen last. Spaulding directed him to the site of the tree in which Dr. Satan was hung. Spaulding, who was later established as a member of The Firefly Family, would later admit that he deliberately sent them to their doom.
With fellow a police officer Deputy Steve Naish and Don Willis, one the teens' fathers and a former officer himself, he sought out the Firefly Farmhouse. Nash and Willis went out back to investigate, but Wydell himself went to talk to a hesitant Mother Firefly for questioning.
He showed several pictures of the missing teenagers, but Mother Firefly claimed to know nothing about them. He was about to leave, when Nash called him on his walkie talkie. He and Mr. Willis had discovered a small shack outside the house where some of the teens were being locked up, right before Otis B. Driftwood killed them both.
Before Wydell could do anything, Mother Firefly pulled out a gun and shot him in the neck, killing him.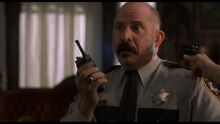 In The Devil's Rejects, his brother Sheriff John Quincy Wydell discovers that George was killed by the Firefly family and is hellbent on revenge. Tom Towles reprises his role as George Wydell in a cameo appearance in one of his brother's dreams. In it, Sheriff Wydell goes to the basement of the Firefly House where George is waiting for him. He tells him he has to stay there and cannot rest until his brother kills the Firefly family.